Drag Racing Gear Sets and Installation Kits
This Chart Shows Standard Street Gears. For Pro Gears,
See Standard & Pro Gear Chart.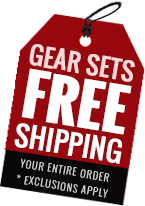 Order any Gear Set Online and get free delivery and handling on your entire order!
Offer excludes truck freight and oversize fees. UPS Ground Only.
Valid on orders shipped in the contiguous United States.
| Make | Model | Years | Type | GEAR SETS | DIFFERENTIALS | INSTALL KITS |
| --- | --- | --- | --- | --- | --- | --- |
| BUICK | FULL SIZE | 1964-1971 | GM 8.2″ BOP | Gear Set | Differential | Install Kit |
| BUICK | FULL SIZE | 1971 + | GM 8.5″ | Gear Set | Differential | Install Kit |
| BUICK | FULL SIZE | 1977-1985 | GM 7.5″ / 7.625″ | Gear Set | Differential | Install Kit |
| BUICK | APOLLO | 1973-1977 | GM 8.5″ | Gear Set | Differential | Install Kit |
| BUICK | CENTURY | 1973-1977 | GM 8.5″ | Gear Set | Differential | Install Kit |
| BUICK | CENTURY | 1978-1981 | GM 7.5″ / 7.625″ | Gear Set | Differential | Install Kit |
| BUICK | ELECTRA | 1973-1978 | GM 8.5″ | Gear Set | Differential | Install Kit |
| BUICK | GRAND SPORT | 1973-1984 | GM 8.5″ | Gear Set | Differential | Install Kit |
| BUICK | LASABRE | 1973-1974 | GM 8.5″ | Gear Set | Differential | Install Kit |
| BUICK | SKYLARK | 1976-1979 | GM 7.5″ / 7.625″ | Gear Set | Differential | Install Kit |
| BUICK | GRAND NATIONAL | 1984-1987 | GM 8.5″ | Gear Set | Differential | Install Kit |
| BUICK | REGAL | 1978-1983 | GM 7.5″ / 7.625″ | Gear Set | Differential | Install Kit |
| CHEVROLET CAR | FULL SIZE | 1970-1976 | GM 8.5″ | Gear Set | Differential | Install Kit |
| CHEVROLET CAR | FULL SIZE | 1976-1996 | GM 7.5″ / 7.625″ | Gear Set | Differential | Install Kit |
| CHEVROLET CAR | BISCAYNE | 1971-1974 | GM 8.5″ | Gear Set | Differential | Install Kit |
| CHEVROLET CAR | CAMARO | 1967-1969 | GM 8.2″ | Gear Set | Differential | Install Kit |
| CHEVROLET CAR | CAMARO | 1967-1972 | GM 12 Bolt | Gear Set | Differential | Install Kit |
| CHEVROLET CAR | CAMARO | 1970-1981 | GM 8.5″ | Gear Set | Differential | Install Kit |
| CHEVROLET CAR | CAMARO | 1982-2002 | GM 7.5″ / 7.625″ | Gear Set | Differential | Install Kit |
| CHEVROLET CAR | CAMARO | 2010-2015 | GM 8.6″ | Gear Set | | |
| CHEVROLET CAR | CAPRICE | 1965-1971 | GM 8.2″ | Gear Set | Differential | Install Kit |
| CHEVROLET CAR | CHEVELLE | | | | | |
| CHEVROLET CAR | CHEVELLE | 1964-1972 | GM 12 Bolt | Gear Set | Differential | Install Kit |
| CHEVROLET CAR | CHEVELLE | 1970-1976 | GM 8.5″ | Gear Set | Differential | Install Kit |
| CHEVROLET CAR | CHEVY II NOVA | 1964-1972 | GM 8.2″ | Gear Set | Differential | Install Kit |
| CHEVROLET CAR | CHEVY II NOVA | 1965-1972 | GM 12 Bolt | Gear Set | Differential | Install Kit |
| CHEVROLET CAR | CHEVY II NOVA | 1970-1979 | GM 8.5″ | Gear Set | Differential | Install Kit |
| CHEVROLET CAR | CORVETTE | 1963-1979 | GM 8.4 | Gear Set | | |
| CHEVROLET CAR | CORVETTE | 1980-1982 | DANA 44 | Gear Set | | |
| CHEVROLET CAR | CORVETTE | 1984-1996 | DANA 36 | Gear Set | | |
| CHEVROLET CAR | CORVETTE | 1997-2013 | | Gear Set | | |
| CHEVROLET CAR | CORVETTE | 2014-2019 | | Gear Set | | |
| CHEVROLET CAR | EL CAMINO | 1965-1972 | GM 12 Bolt | Gear Set | Differential | Install Kit |
| CHEVROLET CAR | EL CAMINO | 1971-1977 | GM 8.5″ | Gear Set | Differential | Install Kit |
| CHEVROLET CAR | EL CAMINO | 1964-1971 | GM 8.2″ | Gear Set | Differential | Install Kit |
| CHEVROLET CAR | IMPALA | 1965-1972 | GM 12 Bolt | Gear Set | Differential | Install Kit |
| CHEVROLET CAR | IMPALA | 1965-1972 | GM 8.2″ | Gear Set | Differential | Install Kit |
| CHEVROLET CAR | MONTE CARLO | 1970-1972 | GM 12 Bolt | Gear Set | Differential | Install Kit |
| CHEVROLET CAR | MONTE CARLO | 1971-1977 | GM 8.5″ | Gear Set | Differential | Install Kit |
| CHEVROLET CAR | MONTE CARLO | 1970-1972 | GM 8.2″ | Gear Set | Differential | Install Kit |
| CHEVROLET CAR | MONTE CARLO | 1978-1988 | GM 7.5″ / 7.625″ | Gear Set | Differential | Install Kit |
| CHEVROLET TRUCK | BLAZER – Front | 1977-1991 | GM 8.5″ | Gear Set | Differential | Install Kit |
| CHEVROLET TRUCK | BLAZER – Rear | 1980-1994 | GM 8.5″ | Gear Set | Differential | Install Kit |
| CHEVROLET TRUCK | BLAZER – Rear | 1964-1982 | GM 12 Bolt | Gear Set | | Install Kit |
| CHEVROLET TRUCK | C10 K10 – Rear | 1964-1982 | GM 12 Bolt | Gear Set | Differential | Install Kit |
| CHEVROLET TRUCK | C20 – Rear | 1980-1992 | DANA 60 | Gear Set | Differential | Install Kit |
| CHEVROLET TRUCK | C30 – Front | 1977-1995 | DANA 60 | Gear Set | Differential | Install Kit |
| CHEVROLET TRUCK | K10 – Rear | 1982 + | GM 8.5″ | Gear Set | Differential | Install Kit |
| CHEVROLET TRUCK | K10 – Rear | 1964-1982 | GM 12 Bolt | Gear Set | | Install Kit |
| CHEVROLET TRUCK | K10 – Front | 1977-1987 | GM 8.5″ | Gear Set | Differential | Install Kit |
| CHEVROLET TRUCK | K20 – Rear | 1964-1982 | GM 12 Bolt | Gear Set | | Install Kit |
| CHEVROLET TRUCK | G10 | 1971 + | GM 8.5″ | Gear Set | Differential | Install Kit |
| CHEVROLET TRUCK | G20 | 1969-1981 | GM 12 Bolt | Gear Set | | Install Kit |
| CHEVROLET TRUCK | G20 | 1979 + | GM 8.5″ | Gear Set | Differential | Install Kit |
| CHEVROLET TRUCK | S10 | 1983-1994 | GM 7.5″ / 7.625″ | Gear Set | Differential | Install Kit |
| CHRYSLER | 300 | 1957-1968 | 8 3/4″ – 742 | Gear Set | Differential | Install Kit |
| CHRYSLER | 300 | 1969-1973 | 8 3/4″ – 489 | Gear Set | Differential | Install Kit |
| CHRYSLER | IMPERIAL | | | | | |
| CHRYSLER | NEW YORKER | | | | | |
| DODGE | CORONET | 1963-1968 | 8 3/4″ – 742 | Gear Set | Differential | Install Kit |
| DODGE | HEMI | 1966-1970 | DANA 60 | Gear Set | Differential | Install Kit |
| DODGE | CHALLENGER | 1968 | 8 3/4″ – 742 | Gear Set | Differential | Install Kit |
| DODGE | CHALLENGER | 1970-1973 | 8 3/4″ – 489 | Gear Set | Differential | Install Kit |
| DODGE | HEMI | 1970-1971 | DANA 60 | Gear Set | Differential | Install Kit |
| DODGE | CHARGER | | | | | |
| DODGE | HEMI | 1966-1971 | DANA 60 | Gear Set | Differential | Install Kit |
| DODGE | HEMI | 1970-1973 | 8 3/4″ – 489 | Gear Set | Differential | Install Kit |
| DODGE | DUSTER | | | | | |
| DODGE | DUSTER | 1970-1973 | 8 3/4″ – 489 | Gear Set | Differential | Install Kit |
| DODGE | MONACO | | | | | |
| DODGE | MONACO | 1969-1973 | 8 3/4″ – 489 | Gear Set | Differential | Install Kit |
| DODGE | SUPER BEE | 1968 | 8 3/4″ – 742 | Gear Set | Differential | Install Kit |
| DODGE | SUPER BEE | 1969-1970 | 8 3/4″ – 489 | Gear Set | Differential | Install Kit |
| DODGE | HEMI | 1968-1971 | DANA 60 | Gear Set | Differential | Install Kit |
| DODGE TRUCK | B200 B250 W100 W150 | | | | | |
| DODGE TRUCK | B200 B250 W100 W150 | 1969-1973 | 8 3/4″ – 489 | Gear Set | Differential | Install Kit |
| DODGE TRUCK | W200 W250 | 1969 + | DANA 60 | Gear Set | Differential | Install Kit |
| FORD | FULL SIZE | 1986-2014 | FORD 8.8″ | Gear Set | Differential | Install Kit |
| FORD | FULL SIZE | 1957-1978 | FORD 8.8″ | Gear Set | Differential | Install Kit |
| FORD | FALCON | 1962-1970 | FORD 8″ | Gear Set | Differential | Install Kit |
| FORD | FAIRLANE | 1964-1970 | FORD 8″ | Gear Set | Differential | Install Kit |
| FORD | FAIRLANE | 1964-1970 | FORD 9″ | Gear Set | Differential | Install Kit |
| FORD | FAIRMONT | 1975-1979 | FORD 8″ | Gear Set | Differential | Install Kit |
| FORD | GRANADA | 1975-1979 | FORD 8″ | Gear Set | Differential | Install Kit |
| FORD | LTD | 1971-1979 | FORD 9″ | Gear Set | Differential | Install Kit |
| FORD | MAVERIC | 1971-1978 | FORD 8″ | Gear Set | Differential | Install Kit |
| FORD | MONARCH | 1974-1980 | FORD 8″ | Gear Set | Differential | Install Kit |
| FORD | MUSTANG | 1965-1979 | FORD 8″ | Gear Set | Differential | Install Kit |
| FORD | MUSTANG | 1986-2014 | FORD 8.8″ | Gear Set | Differential | Install Kit |
| FORD | MUSTANG | 2015-2020 | SUPER 8.8 | Gear Set | | |
| FORD | MUSTANG | 1965-1973 | FORD 9″ | Gear Set | Differential | Install Kit |
| FORD | PINTO | 1971-1980 | FORD 8″ | Gear Set | Differential | Install Kit |
| FORD | THUNDERBIRD | 1987-1996 | FORD 8.8″ | Gear Set | Differential | Install Kit |
| FORD | THUNDERBIRD | 1957-1973 | FORD 9″ | Gear Set | Differential | Install Kit |
| FORD | TORINO | 1971-1974 | FORD 8″ | Gear Set | Differential | Install Kit |
| FORD | TORINO | 1971-1979 | FORD 9″ | Gear Set | Differential | Install Kit |
| FORD TRUCK | BRONCO | 1981-1994 | FORD 8.8″ | Gear Set | Differential | Install Kit |
| FORD TRUCK | BRONCO | 1967-1986 | FORD 9″ | Gear Set | Differential | Install Kit |
| FORD TRUCK | EXPLORER | 1990-2014 | FORD 8.8″ | Gear Set | Differential | Install Kit |
| FORD TRUCK | E100 E150 | 1986-1987 | FORD 9″ | Gear Set | Differential | Install Kit |
| FORD TRUCK | E150 | 1983-2014 | FORD 8.8″ | Gear Set | Differential | Install Kit |
| FORD TRUCK | E200 | 1968-1974 | FORD 9″ | Gear Set | Differential | Install Kit |
| FORD TRUCK | E250 | 1983-1987 | FORD 8.8″ | Gear Set | Differential | Install Kit |
| FORD TRUCK | E250 E350 | 1982-1992 | DANA 60 | Gear Set | Differential | Install Kit |
| FORD TRUCK | F100 F150 | 1970-1986 | FORD 9″ | Gear Set | Differential | Install Kit |
| FORD TRUCK | F100 – Rear | 1967-1985 | DANA 60 | Gear Set | Differential | Install Kit |
| FORD TRUCK | F150 | 1981-2014 | FORD 8.8″ | Gear Set | Differential | Install Kit |
| FORD TRUCK | F150 – Rear | 1967-1985 | DANA 60 | Gear Set | Differential | Install Kit |
| FORD TRUCK | F250 | 1981-1990 | FORD 8.8″ | Gear Set | Differential | Install Kit |
| FORD TRUCK | F250 | 1957-1987 | FORD 9″ | Gear Set | Differential | Install Kit |
| FORD TRUCK | F250 | 1967-1992 | DANA 60 | Gear Set | Differential | Install Kit |
| FORD TRUCK | F250 | 1978-1992 | DANA 60 | Gear Set | Differential | Install Kit |
| FORD TRUCK | RANGER 4L | 1990-2014 | FORD 8.8″ | Gear Set | Differential | Install Kit |
| FORD TRUCK | RANGER 4L | 1990-2014 | FORD 8.8″ | Gear Set | Differential | Install Kit |
| GMC | C15 K15 – Rear | 1964-1982 | GM 12 Bolt | Gear Set | | Install Kit |
| GMC | C25 | 1980-1992 | DANA 60 | Gear Set | Differential | Install Kit |
| GMC | C35 K35 – Front | 1977-1995 | DANA 60 | Gear Set | Differential | Install Kit |
| GMC | K15 – Rear | 1982 + | GM 8.5″ | Gear Set | Differential | Install Kit |
| GMC | K15 – Front | 1977-1987 | GM 8.5″ | Gear Set | Differential | Install Kit |
| GMC | G15 | 1971 + | GM 8.5″ | Gear Set | Differential | Install Kit |
| GMC | G25 | 1969-1981 | GM 12 Bolt | Gear Set | | Install Kit |
| GMC | G25 | 1979 + | GM 8.5″ | Gear Set | Differential | Install Kit |
| GMC | S25 | 1983-1994 | GM 7.5″ / 7.625″ | Gear Set | Differential | Install Kit |
| GMC | Sprint | 1971-1972 | GM 8.2″ | Gear Set | Differential | Install Kit |
| MERCURY | FULL SIZE | 1982-2014 | FORD 8.8″ | Gear Set | Differential | Install Kit |
| MERCURY | FULL SIZE | 1957-1973 | FORD 9″ | Gear Set | Differential | Install Kit |
| MERCURY | BOBCAT | 1975-1980 | FORD 8″ | Gear Set | Differential | Install Kit |
| MERCURY | COMET | 1965-1967 | FORD 9″ | Gear Set | Differential | Install Kit |
| MERCURY | COMET | 1964-1977 | FORD 8″ | Gear Set | Differential | Install Kit |
| MERCURY | COUGAR | 1988-1996 | FORD 8.8″ | Gear Set | Differential | Install Kit |
| MERCURY | COUGAR | 1967-1979 | FORD 8″ | Gear Set | Differential | Install Kit |
| MERCURY | COUGAR | 1965-1973 | FORD 9″ | Gear Set | Differential | Install Kit |
| MERCURY | MONTEGO | 1968-1976 | FORD 9″ | Gear Set | Differential | Install Kit |
| MERCURY | ZEPHER | 1978-1979 | FORD 8″ | Gear Set | Differential | Install Kit |
| OLDSMOBILE | FULL SIZE | 1971-1989 | GM 8.5″ | Gear Set | Differential | Install Kit |
| OLDSMOBILE | FULL SIZE | 1977-1989 | GM 7.5″ / 7.625″ | Gear Set | Differential | Install Kit |
| OLDSMOBILE | F85 | 1968-1970 | GM 12 Bolt | Gear Set | Differential | Install Kit |
| OLDSMOBILE | F85 | 1964-1971 | GM 8.2″ BOP | Gear Set | Differential | Install Kit |
| OLDSMOBILE | CUTLASS | 1971-1977 | GM 8.5″ | Gear Set | Differential | Install Kit |
| OLDSMOBILE | CUTLASS | 1978-1988 | GM 7.5″ / 7.625″ | Gear Set | Differential | Install Kit |
| OLDSMOBILE | HURST | 1985-1988 | GM 8.5″ | Gear Set | Differential | Install Kit |
| OLDSMOBILE | OMEGA | 1973-1975 | GM 8.5″ | Gear Set | Differential | Install Kit |
| OLDSMOBILE | OMEGA | 1977-1979 | GM 8.5″ | Gear Set | Differential | Install Kit |
| OLDSMOBILE | OMEGA | 1975-1979 | GM 7.5″ / 7.625″ | Gear Set | Differential | Install Kit |
| PLYMOUTH | BARRACUDA | 1964-1968 | 8 3/4″ – 742 | Gear Set | Differential | Install Kit |
| PLYMOUTH | BARRACUDA | 1969-1973 | 8 3/4″ – 489 | Gear Set | Differential | Install Kit |
| PLYMOUTH | HEMI | 1970-1971 | DANA 60 | Gear Set | Differential | Install Kit |
| PLYMOUTH | BELVEDERE | 1957-1968 | 8 3/4″ – 742 | Gear Set | Differential | Install Kit |
| PLYMOUTH | BELVEDERE | 1969-1970 | 8 3/4″ – 489 | Gear Set | Differential | Install Kit |
| PLYMOUTH | HEMI | 1966-1970 | DANA 60 | Gear Set | Differential | Install Kit |
| PLYMOUTH | FURY | 1957-1968 | 8 3/4″ – 742 | Gear Set | Differential | Install Kit |
| PLYMOUTH | FURY | 1969-1973 | 8 3/4″ – 489 | Gear Set | Differential | Install Kit |
| PLYMOUTH | HEMI | 1967-1971 | DANA 60 | Gear Set | Differential | Install Kit |
| PLYMOUTH | ROAD RUNNER | 1968 | 8 3/4″ – 742 | Gear Set | Differential | Install Kit |
| PLYMOUTH | HEMI | 1968-1971 | DANA 60 | Gear Set | Differential | Install Kit |
| PLYMOUTH | HEMI | 1969-1973 | 8 3/4″ – 489 | Gear Set | Differential | Install Kit |
| PLYMOUTH | SATELLITE | 1968 | 8 3/4″ – 742 | Gear Set | Differential | Install Kit |
| PLYMOUTH | SATELLITE | 1969-1973 | 8 3/4″ – 489 | Gear Set | Differential | Install Kit |
| PLYMOUTH | HEMI | 1966-1971 | DANA 60 | Gear Set | Differential | Install Kit |
| PLYMOUTH | SUPERBIRD HEMI | 1970 | DANA 60 | Gear Set | Differential | Install Kit |
| PLYMOUTH | VALIANT | 1960-1968 | 8 3/4″ – 742 | Gear Set | Differential | Install Kit |
| PLYMOUTH | VALIANT | 1969-1973 | 8 3/4″ – 489 | Gear Set | Differential | Install Kit |
| PONTIAC | FULL SIZE | 1971-1989 | GM 8.5″ | Gear Set | Differential | Install Kit |
| PONTIAC | FULL SIZE | 1964-1971 | GM 8.2″ BOP | Gear Set | Differential | Install Kit |
| PONTIAC | FULL SIZE | 1977-1989 | GM 7.5″ / 7.625″ | Gear Set | Differential | Install Kit |
| PONTIAC | FIREBIRD TRANS AM | 1970-1981 | GM 8.5″ | Gear Set | Differential | Install Kit |
| PONTIAC | FIREBIRD TRANS AM | 1967-1971 | GM 8.2″ BOP | Gear Set | Differential | Install Kit |
| PONTIAC | FIREBIRD TRANS AM | 1982-2002 | GM 7.5″ / 7.625″ | Gear Set | Differential | Install Kit |
| PONTIAC | GTO | 1965-1972 | GM 12 Bolt | Gear Set | Differential | Install Kit |
| PONTIAC | GTO | 1970-1981 | GM 8.5″ | Gear Set | Differential | Install Kit |
| PONTIAC | GTO | 1964-1971 | GM 8.2″ BOP | Gear Set | Differential | Install Kit |
| PONTIAC | GRAND PRIX | 1970-1972 | GM 12 Bolt | Gear Set | Differential | Install Kit |
| PONTIAC | GRAND PRIX | 1971-1977 | GM 8.5″ | Gear Set | Differential | Install Kit |
| PONTIAC | LEMANS | 1965-1972 | GM 12 Bolt | Gear Set | Differential | Install Kit |
| PONTIAC | LEMANS | 1971-1977 | GM 8.5″ | Gear Set | Differential | Install Kit |
| PONTIAC | TEMPEST | 1964-1971 | GM 8.2″ BOP | Gear Set | Differential | Install Kit |
| PONTIAC | VENTURA | 1971-1977 | GM 8.5″ | Gear Set | Differential | Install Kit |
| PONTIAC | VENTURA | 1978-1981 | GM 7.5″ / 7.625″ | Gear Set | Differential | Install Kit |
| Make | Model | | | | | |